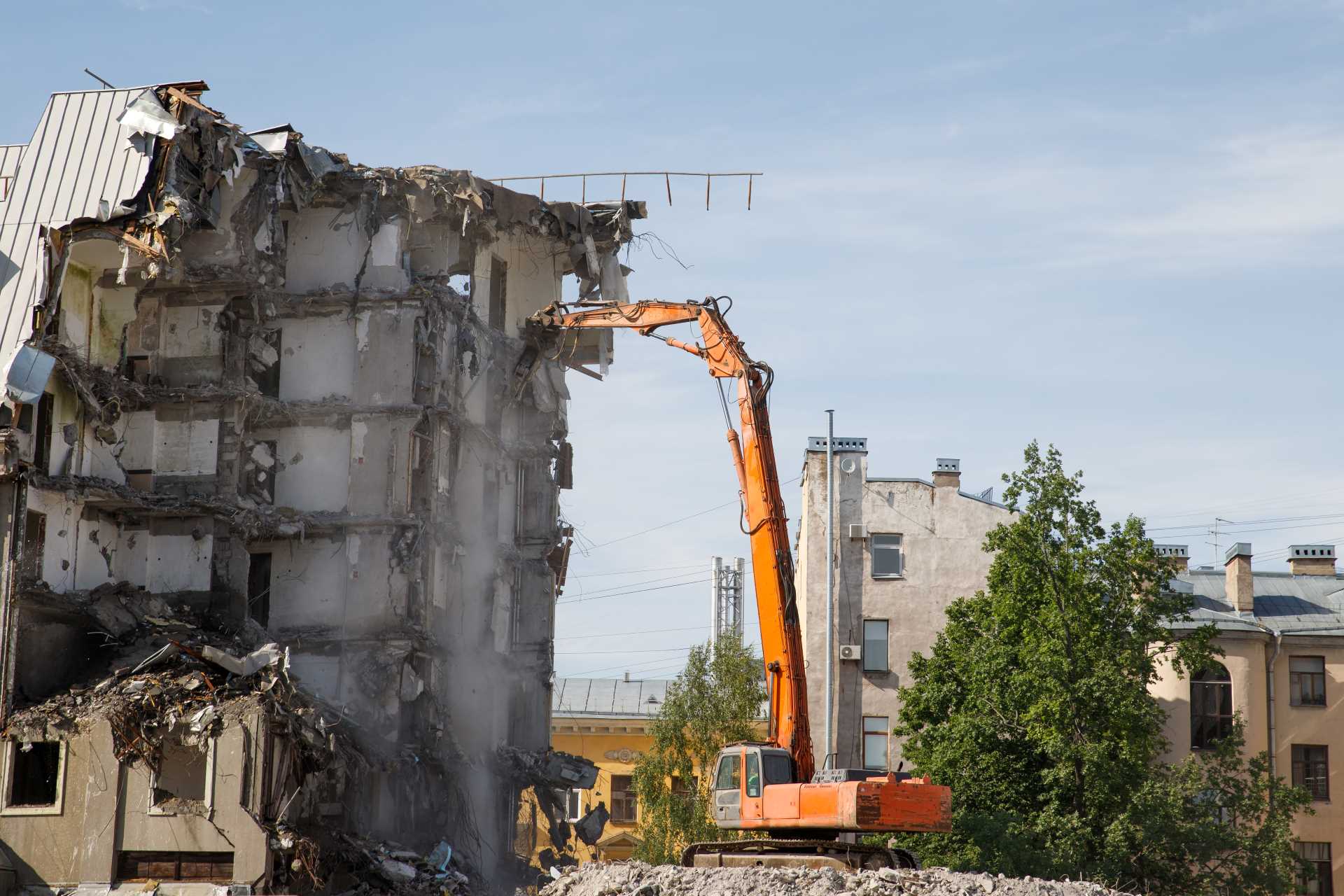 The most important part of demolition is to be safe. No job is work risking injury for, so taking the necessary precautions to make sure everyone goes home safe at night is paramount to conducting proper demolition. Demolition safety comes in many ways, from using the right equipment to inspecting a site before demolishing it, while demolition health and safety standards should also be met before operations begin. Always make sure you have been granted council approval before demolishing a property, as there may be unknown factors you may have overlooked, from hidden power cables to people occupying the property.
Demolition is an essential part of the construction process, as the removal of old and decaying properties will allow new and improved buildings to take their place. Proper demolition safety procedures must be followed, however, to ensure a safe working environment for all involved. This blog will discuss the best tips for ensuring your site follows the essential demolition health and safety standards while conducting demolition.
Gumdale Demolition takes pride in being one of the leading demolition businesses in Brisbane. Call us on (07) 3809 4108 today to start discussing your next demolition project, or get a free quote online.
Demolition Health and Safety
Tips
Wear Protective Equipment at all Times
The most basic rule of demolition safety is also the most important. Ensure all workers on site are wearing the necessary Personal Protective Equipment (PPE) to always stay safe. A hard hat, safety glasses and gloves, steel-capped boots, and a high-visibility vest are all standard and must be worn to protect you from any hazards on site.
Ensure all Staff Have the Appropriate Training & Qualifications
When conducting demolition or construction of any kind, it is important to make sure that everyone working on site has been properly trained for their role and the environment. It can be dangerous for untrained staff to be present on site, so make sure they are all trained before work begins.
Conduct an Asbestos Survey
Before demolition can begin, a survey must take place to determine if there is any asbestos on site. If any is found, it must be safely removed and disposed of by following proper procedures. Once the site has been declared asbestos free, demolition can move forward.
Disconnect All Utilities
Before beginning the demolition of a site, ensure all utilities have been disconnected to avoid any potential hazards, such as water leakage or electrocution. Gas, water, electricity and any other utilities must be noted and disconnected, while the providers of each service should be notified of their disconnection.
Establish Clear Traffic Movement Areas
A demolition site will see plenty of heavy machinery moving around the space, so it is vital to clearly delegate operating areas for these vehicles. When one is operating these machines, it is hard to see anyone who may be walking nearby, so be sure to clearly mark where machinery will be operating and create a safe footpath away from this area so pedestrian traffic will not be near the machinery.
Begin Work at the Top of the Structure
When conducting demolition, it is important to properly survey the structure to avoid any incidents involving falling debris. Thus, it is advised to begin your demolition at the top of the building, as this mitigates the risk of having the entire structure toppling over once work begins.
Monitor Your Levels
Demolition sites can be noisy places, but it is important to monitor your noise levels, so workers do not suffer permanent damage to their hearing. Proper safety equipment should be provided to protect worker's ears, while regular checks and breaks should be conducted to reduce the risks. Constant loud noise also runs the risk of earning the wrath of the nearby public.
Vibration levels are another factor that must be considered as constant exposure to heavily vibrating tools and machinery can cause workers to suffer from hand-arm vibration syndrome (HAVS) later in life. Exposure to vibration should be reduced as much as possible, while it must be monitored if necessary.
Always Keep a Clean Site
The best way to ensure a safe working environment is to keep it clean. All debris and other excess materials should be immediately removed to allow clean pathways and reduce the risk of tripping hazards. Drinking water, break areas, and shelter from the elements must be provided on site to ensure proper care is given to your workforce so everyone remains safe and healthy.
Book Gumdale Demolition Today
The best way to ensure proper demolition safety is maintained is to hire a professional, and at Gumdale Demolition, we are the demolition experts. Whether you are seeking residential demolition services or commercial demo, we are here to provide you with best quality demolition on the market. Along with full demolition, we offer partial demolition, strip outs, asbestos removal, and concrete disposal.
To get started on your demolition project or to seek expert advice, give Gumdale Demolition a call on (07) 3809 4108 and a member of our friendly staff will be happy to speak with you. If you already know what services you need, get a free quote online so you can get a head start on your project as we work together to plan the perfect plan moving forward.